Mounting¶
Before you can use Rowing in Motion to measure your own rowing performance, you need to properly attach your smartphone to the shell so that it can sense the movement of your boat.
Warning
Proper mounting is essential! When your device is not mounted to the boat firmly, Rowing in Motion may not be able to provide correct stroke rate and acceleration readings. If you encounter issues with erratic stroke-rate, check your mounting!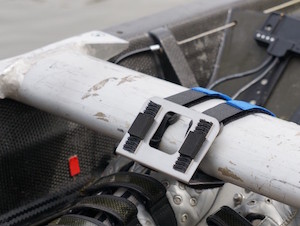 You can mount your device at any angle, but the screen needs to face the bow as seen in the image above. The App calibrates itself to the devices mounting angle on startup. This calibration is applied to all measurements, so please ensure your device is firmly attached and doesn't move during exercise. If you find your device has moved during exercise a warning may appear and ask you to re-calibrate.
We offer a 2-in-1 mounting kit for wing riggers and deck mount on our website. The mount is easily portable between boats and includes all material needed.
Positioning¶
In our experience, the best mounting positions in a boat are:
on the deck using an angled bracket
on the wing rigger using a padded bracket
at the top end of the stern bulkhead (the angled board behind the stretcher)
Both of these positions have good visibility and are isolated from shocks and vibrations. Mounting on the cross-bar of a wing-rigger is very useful and portable but requires appropriate padding or the sensors may pick up too much vibration there.
Material¶
We absolutely recommend you use a waterproof case, unless you have a waterproof phone of course. The material we found works best for securely and firmly attaching a smartphone to the boat is the 3M DualLock synthetic velcro. You can get this type of velcro from our website or in many hardware stores.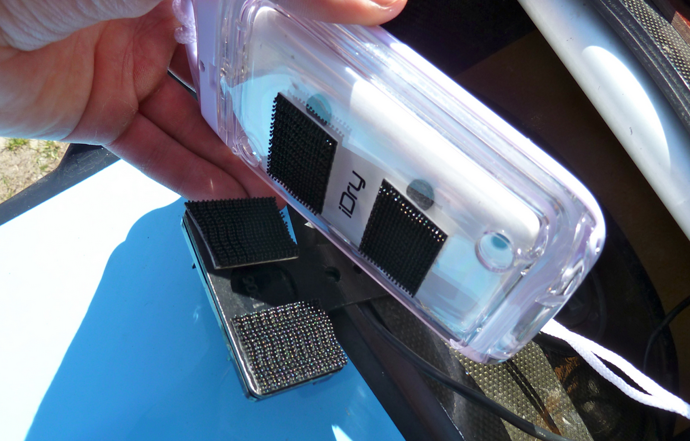 Unless you're already using a case, we recommend you put your smartphone in an inexpensive silicon case and attach the DualLock to that case instead of the smartphone directly. If you want to learn more about mounting tips and tricks as well as material recommendations, please take a look at our mounting tips website.
Common Errors¶
It may happen that the stroke-rate display on your first session with Rowing in Motion is erratic. In 100% of the cases we've heard about this, proper mounting was able to fix this issue. Our users have in total tracked more than 100.000km of rowing sesions with RiM so far and we are fairly confident stroke-detection will work for you too when your device is firmly attached to the hull. Many other parameters in RiM depend on accurate stroke-detection and you may thus find that e.g. speed and other metrics may be incorrect as well. In that case, we strongly suggest you take a look at our mounting tips website for some tips and tricks for mounting your phone firmly.
Bad Mounting¶
The acceleration sensors used by Rowing in Motion are extremely sensitive to even small movements and vibrations. It is therefore really important that the device is firmly attached to the boat and doesn't shake or vibrate during rowing. If it does, this may significantly reduce the quality of acceleration data and make a proper stroke-detection impossible. For this reason, the App automatically monitors vibrations and unexpected movements and will display a warning when acceleration signal quality is not good enough.
When you receive such a warning, try to improve mounting, e.g. by moving the device to a different place where it wouldn't catch up so many vibrations or by tightening it's attachment to the boat.
You can enable or disable bad mounting warnings from the settings menu. This setting is enabled by default.
Bad Calibration¶
A common mistake new users make with Rowing in Motion is to start the App before they go out on the water. Since the App calibrates to the position it is started in, this results in a calibration error on the water. This may cause a malfunctioning stroke rate detection and wrong metrics among other problems. To prevent this type of error, the App uses an algorithm to detect situations where the calibration appears to be bad and displays a warning on-screen which allows you to re-calibrate the device.
You can enable or disable bad calibration warnings from the settings menu. This setting is enabled by default.